Komatsu has established a BCP to continue or quickly restore important operations. We implemented initial response training at each base in Japan to improve their risk management level and their ability to respond to disasters. We have introduced the safety check system to promptly check the safety of employees and their families when a disaster or accident occurs as well as wide-area wireless devices and other tools at each base of the group. Through regular safety reporting and communication training, we are enhancing the emergency communication capabilities of the entire group. Each base in Japan also conducts regular training to ensure that appropriate actions are taken during a disaster by role-playing the occurrence of a large earthquake or flooding, in an effort to ensure that appropriate actions are taken in the event of a disaster.
Furthermore, considering the recent frequent occurrence of large natural disasters, each of our bases is seismically reinforcing buildings and facilities and enhancing countermeasures against concentrated heavy rains based on their own plans. We are focused on not only strengthening the BCP of each base of the Komatsu Group but also strengthening the supply chain system through our support of our business partners as they establish and improve their BCPs. In FY2020, we held three remote seminars for our business partners with the participation of about 70 companies. The seminars were mainly about the first actions to take in the event of a disaster and the standard efforts for increasing emergency preparedness. Komatsu will continue to promote and enhance our Group-wide BCP initiatives.
Response to the COVID-19 coronavirus
To fulfill its responsibilities to its customers engaged in essential businesses supporting social infrastructure, the Komatsu Group takes thorough measures to prevent infection as it continues to supply of products, parts and services to its customers. In March 2020, an emergency task force led by our president was established. The task force met, shared information globally and reviewed and expanded policies to prevent the spread of infectious diseases. (The emergency task force met a total of 79 times as of March 2021.)
(1) COVID-19 and fluctuation of demand
COVID-19 triggered the declaration of a state of emergency in many countries and led to restrictions being placed on economic activities that have impacted the operations of Komatsu and its customers. The degree of infection and recovery is different in each country. In China, one of the first countries to domestically manage the pandemic, we capitalized on the demand that was growing significantly and, in the first period of FY2020, our sales outperformed those of the same period of the previous year. In other regions, however, the stagnation of economic activity caused a significant downturn in demand and overall sales fell below those of the same period of the previous year. From the second period of FY2020, the status of operation of machinery has returned to a usual level in many different regions despite some variation. In Indonesia, Thailand and Malaysia, the steady recovery of demand was recognizable mainly for general construction equipment. In Oceania, mine construction equipment for iron ore and general construction equipment enjoyed steady demand and their sales increased year-on-year. However, overall sales for the full business year fell below the level of the previous business year.
Demand for construction and mine resources, which support social infrastructure, is recovering despite some variations among regions. Demand for our products is estimated to return to its previous level. But the impact of COVID-19 may last longer than expected. There has been a resurgence of COVID-19 infections in Europe and India and there is no telling when the pandemic will end.
(2) Efforts to continue business activities
The production activities of some Komatsu plants were affected by the lockdowns and other measures ordered by local governments. To adapt to regional variations in demand and to exchange rates, Komatsu has implemented cross-sourcing enabling its production activities to be flexibly performed at plants around the world. This initiative functioned effectively as the COVID-19 pandemic began. We took measures to address risks relating to the supply of parts from our suppliers, such as leveraging our global network to preferentially allocate stock in the supply chain to underserved regions. Further, we developed alternative products and secured suppliers to ensure that sales opportunities were not missed, a potential result of a stockout of parts.
(3) Measures to prevent infection at workplaces
We prioritize the safety and health of our customers, business partners, community, employees and their families as we work to prevent COVID-19 infections in compliance with the related policies of national governments.
In Japan, we encourage employees to telework, and about 70% of the employees at our head office divisions teleworked during the states of emergency. In those times, domestic travel, events, training and seminars were basically canceled or postponed, and all in-house training programs were basically shifted online.
Our production sites took measures including providing thorough ventilation using placed fans and open windows, increasing the number of lounges and staggering break times, to prevent infections from spreading inside a workplace.
(4) Providing information to stakeholders
To prevent COVID-19 infections, Komatsu has aggressively encouraged the use of online communications. In December 2020, we had our first-ever online shareholder meeting and engaged in dialog with shareholders and answered questions in real time. In June 2021, our General Meeting of Shareholders was held online for first time.
Our website includes video of virtual tours of the Awazu and Ibaraki Plants, enabling viewers to drag the image displayed on the screen to view a 360° image of the process of assembling a construction machine from any angle they wish. The video conveys the atmosphere of Komatsu's worksites as they engage in monozukuri.
Virtual plant tour video
(5) Digitally transforming construction sites to protect customers from infection
Through its solution business, Komatsu has increased the productivity and safety of our customers' construction sites using digital construction technology. Our customers' need to avoid the three Cs (closed spaces, crowded places, and close-contact settings) on their worksites during and after the pandemic may tangibly impact us in ways such as the increase demand for remote control products, automation and unmanned operations, and there may be intangible aspects such as the rapid acceleration of the digitalization of construction and digital twin technology.
Japan's Ministry of Land, Infrastructure, Transport and Tourism recommended measures to avoid the three Cs at construction sites, and as a part of these efforts, Komatsu believes that on-site digital twins are a solution for the prevention of COVID-19 infections at its customers' sites. It involves a digital transformation to leverage smart construction to enable people involved to stay on top of what is happening at the site remotely, so that it is not necessary for workers to gather in one location.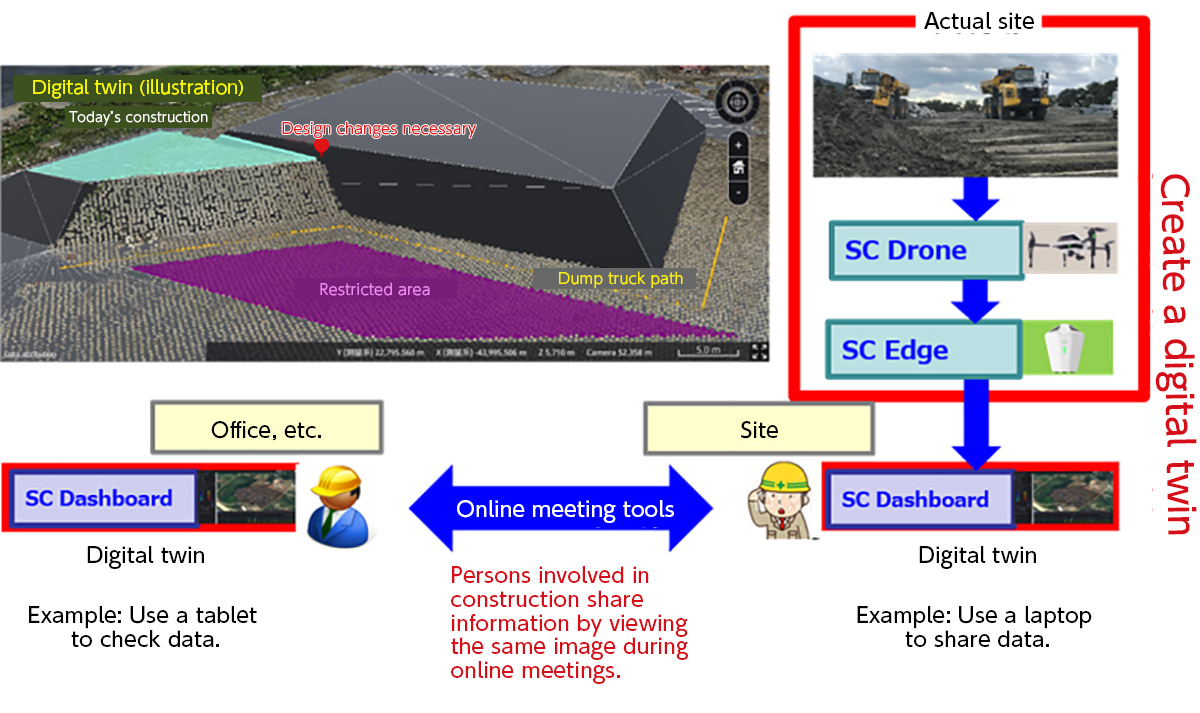 Quickly create point-cloud data of the current topography of a worksite and create a digital twin from 3D topography data in the app provided by Komatsu to enable the people involved to stay on top of the progress of construction, even when they are far away from the site, and to take action when presented with problems.
Conducting Compliance and Risk Audits
As a part of its risk management activities, Komatsu has been conducting compliance and risk audits (CR audits) since FY2008. These covered areas are not included in J-SOX audits, which are conducted in accordance with the Financial Instruments and Exchange Act of Japan to evaluate the internal controls related to financial reporting, and identify potential compliance risks within the company, with a particular focus on confirming and evaluating the status of legal compliance. Our internal specialist team conducts the internal audits at Komatsu and its Japanese/overseas affiliates, as well as at independently owned distributors and business partners. Through these audits, we strive to raise control and compliance awareness levels at each company and in every department. We are improving our audit method according to changes in the business environment and raising the operational level of CR audits as a part of our risk management functions.
The audited items are:
1. Safety, 2. Environment, 3. Labor, 4. Finance and Treasury, 5. Quality Assurance and Recall, 6. Vehicle Inspections and Specific Voluntary Inspections (inspections required by law), 7.Export Control, 8. Information Security, 9. the Anti-monopoly Act, 10. the Subcontract Act
In addition, as CR audits that cover areas across the above items, we implement field instructor audits (Safety, Environment) and audits of sales office bases (Finance and Treasury, Labor, Information Security), which are implemented at each distributor base, as well as audits of overseas representative offices (Finance and Treasury, Labor, Information Security), which are implemented for overseas offices.