In light of the emphasis on corporate efforts towards ESG (Environmental, Social, Governance), Komatsu announced the Mid-range Management Plan in April 2016 which stated that Komatsu places emphasis on ESG. In incorporating ESG into the Mid-range Management Plan, we re-examine the relationship between Komatsu's business and CSR initiatives, reveal the direction we are currently taking, and how Komatsu's CSR activities link to the SDGs (Sustainable Development Goals) adopted by the United Nations as a common goal aimed at by the international community.
SDG Goals and Selection Process
Based on the discussions, we did a thorough analysis to compare the 17 SDG goals and their accompanying 169 SDG targets with our CSR activities and themes. We evaluated 1) whether there is a relation, and 2) the depth of the relation.
[Table 1: Komatsu's CSR priority areas / Priority activities and SDG goals]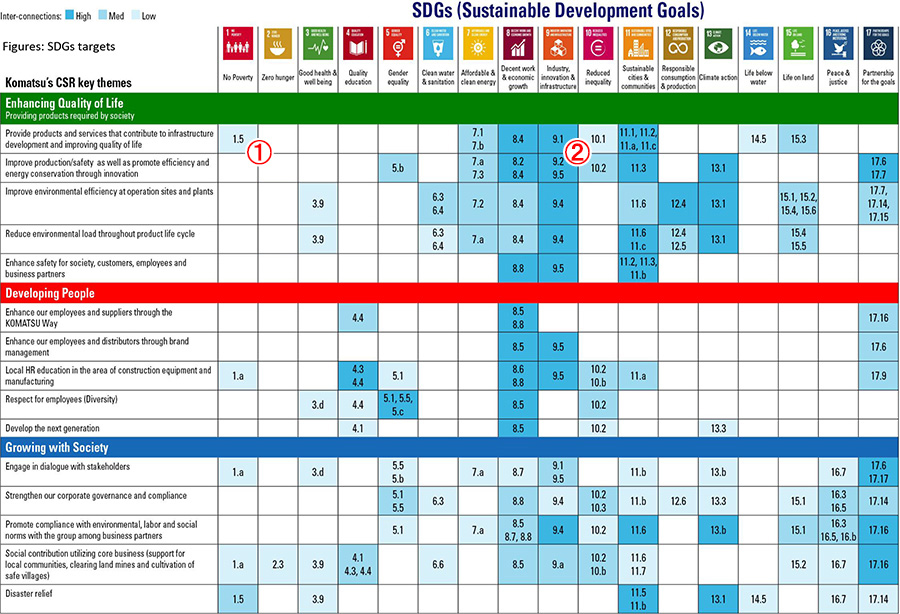 For example, one of our CSR activities is providing products and services that contribute to infrastructure development and improve the quality of life. For each SDG goal and target, we compared our activity:  For example, for SDG Goal #1, we compared as follows;
<Example 1> SDG Goal #1 (No poverty)
SDG Target 1.1 (By 2030, eradicate extreme poverty for all people everywhere, currently measured as people living on less than $1.25 a day)


In this instance, we did not see a direct relation.

SDG Target 1.2 (By 2030, reduce at least by half the proportion of men, women and children of all ages living in poverty in all its dimensions according to national definitions)


In this instance, we did not see a direct relation.

SDG Target 1.5 (By 2030, build the resilience of the poor and those in vulnerable situations and reduce their exposure and vulnerability to climate-related extreme events and other economic, social and environmental shocks and disasters),

we believe there is an indirect relation, and thus colored the cell light blue to indicate the connection.

(Refer to ① in the Table 1)
In the same manner, we compared as follows;
<Example 2> SDG Goal #9 (Industry Innovation and Infrastructure)
The same process was followed for all SDG targets and all of Komatsu's CSR activities. On Table 1, the number in the cell represents the SDG target(s) where there is a relation, and the color (dark/medium/light) indicates the depth of the relation (direct or indirect).
According to the team's analysis, five SDG goals have a strong relationship with Komatsu's three CSR Themes. By focusing on these five SDG goals, Komatsu contribute to all the SDG goals comprehensively since it is proved that each SDG goal is mutually intertwined.
The five SDG goals are
Table 2 explains how Komatsu's business and CSR activities contribute to the five SDG goals and targets that have the strongest ties to Komatsu's business.
[Table 2: Co-relation between SDG Goals and Komatsu Business/CSR]
Our next steps are to engage with additional internal and external stakeholders, share this information and follow the Plan-Do-Check-Act method to validate the analysis and establish an action plan.
Following this analysis, we are now reviewing what additional opportunities exist for Komatsu to make an increased contribution to the achievement of the SDGs, focusing on SDGs 8, 9, 11, 13, and 17. We will prioritize opportunities that contribute to the SDGs by creating value for stakeholders and shareholders, and will communicate progress in future Komatsu reports.